Op 10-11 januari 1996 kwam een selecte groep van 19 personen (van wie de meerderheid rechtstreeks met Bruce Lee trainde, evenals verschillende tweede generatie studenten van Dan Inosanto en Ted Wong op hoog niveau) samen voor een tweedaagse top om het behoud en de bestendiging van Bruce Lee's kunst en wetenschap, bekend als Jeet Kune Do, te bespreken.
Er werd besloten dat de organisatie zou worden opgericht als een non-profitorganisatie die is opgericht met het doel alle facetten van Lee's kunst te behouden en te bestendigen. Bovendien werd door de aanwezigen besloten dat de officiële naam van de groep de "Jun Fan Jeet Kune Do Nucelus" zou zijn. Het woord "Nucleus" werd gekozen om deze "kern" -groep te beschrijven, omdat het een term is die Lee vaak gebruikt om de "totaliteit" van de strijd of de "cirkel zonder omtrek" te beschrijven.
De aanwezigen bij de oprichtingsvergadering waren:
Linda Lee Cadwell Shannon Lee
Taky Kimura Dan Inosanto
Allen Joe George Lee
Greglon Lee Ted Wong
Daniel Lee Richard Bustillo
Larry Hartsell Herb Jackson
Bob Bremer Pete Jacobs
Tim Tackett Chris Kent
Andy Kimura Tommy Gong
John Little Jerry Poteet (invited but did not attend)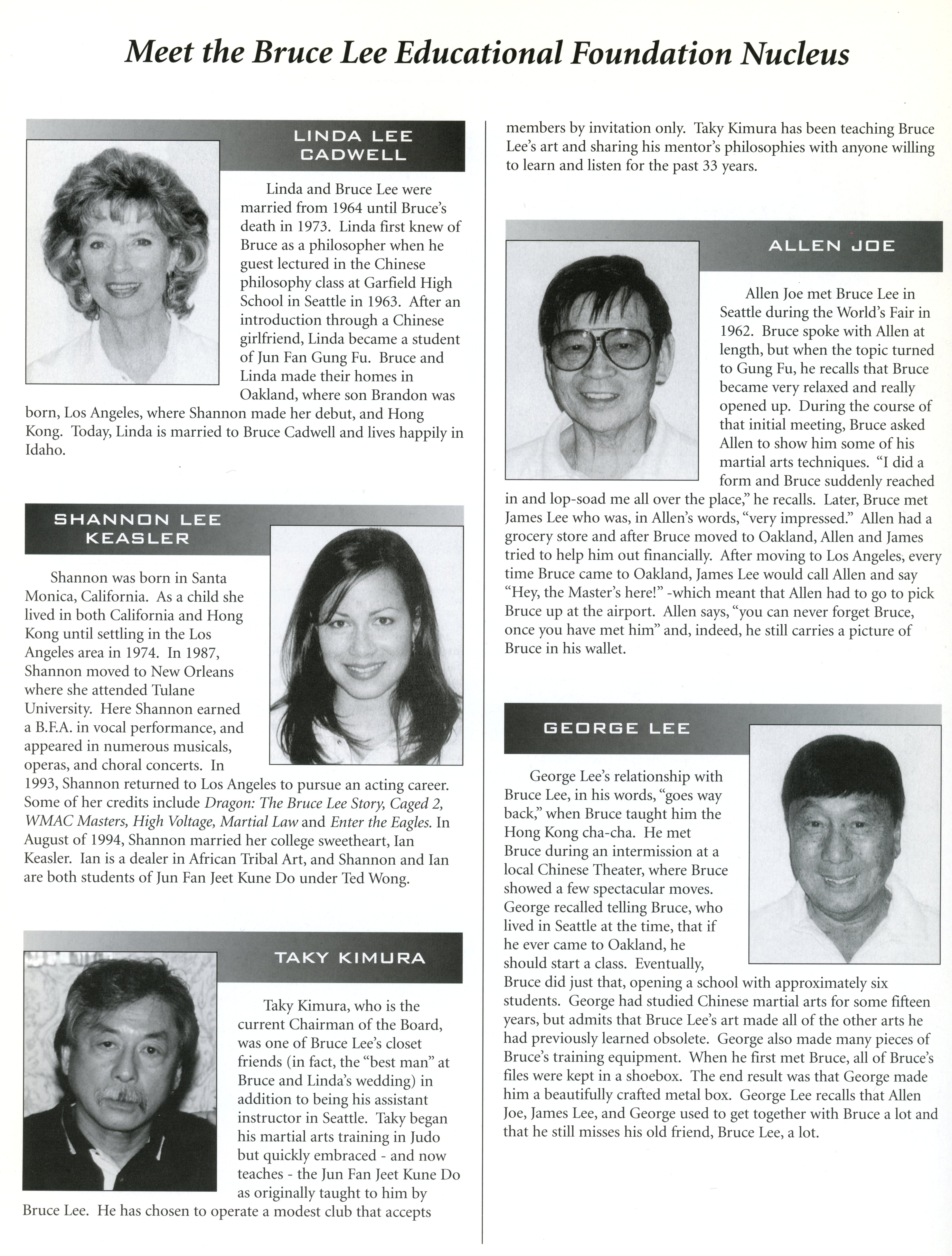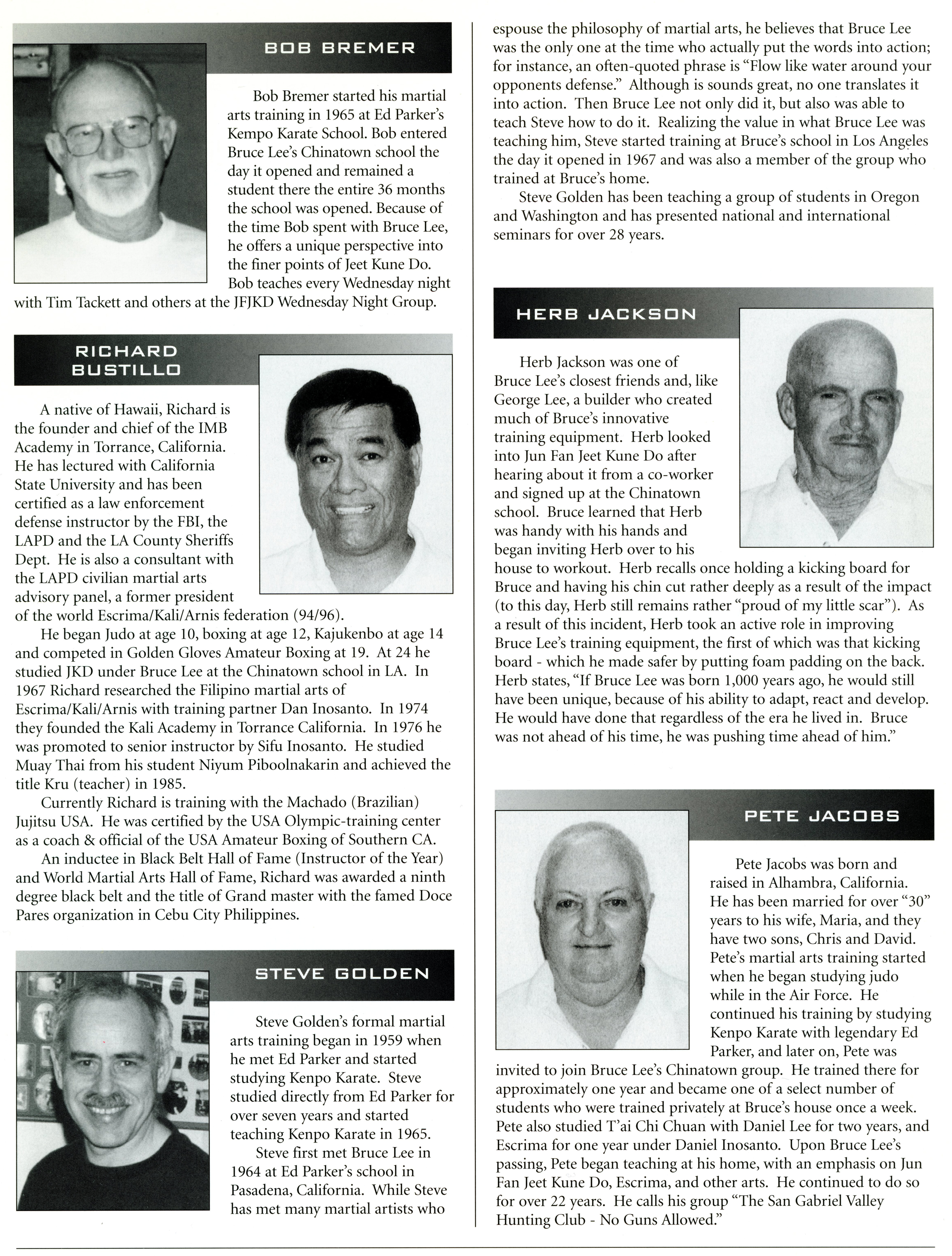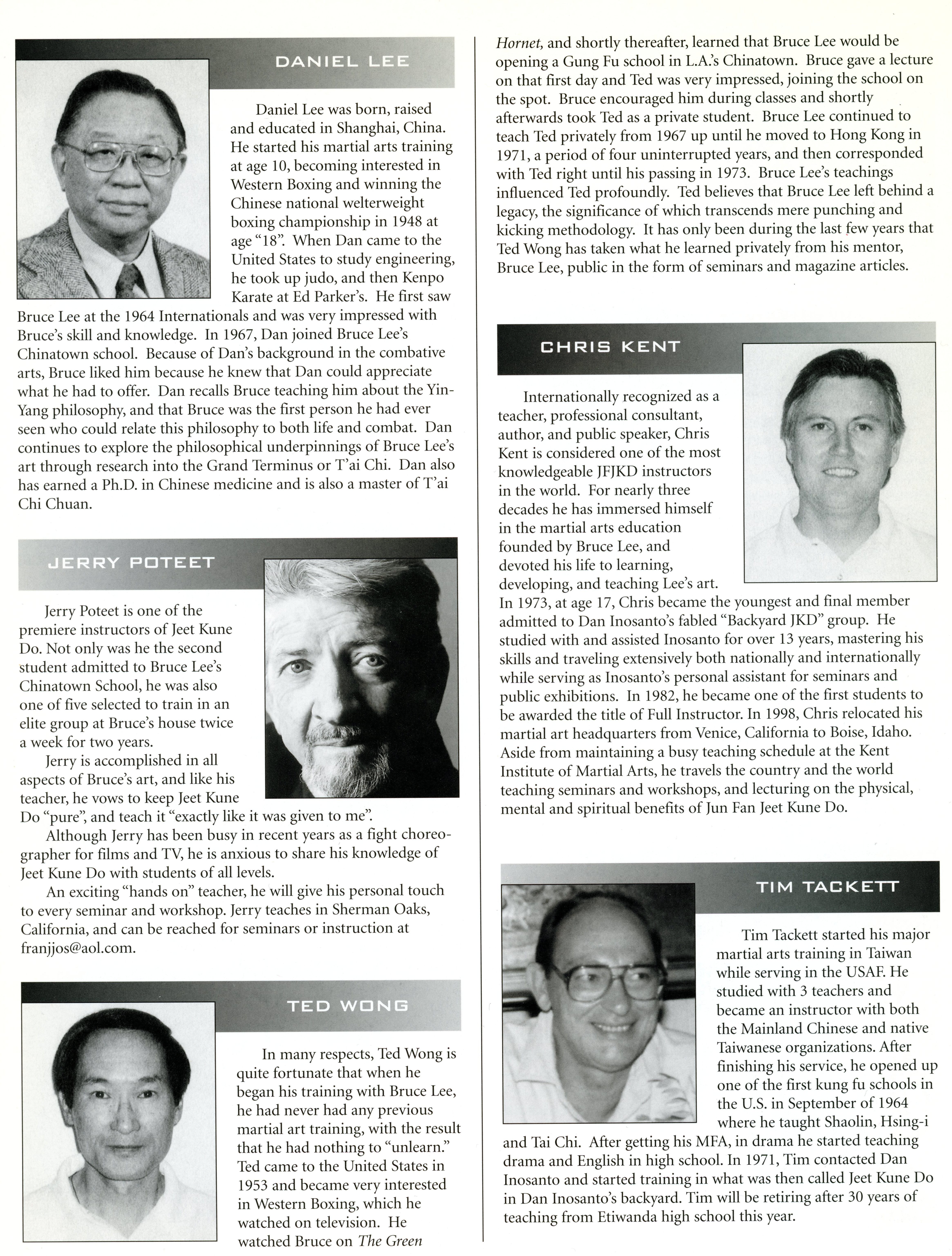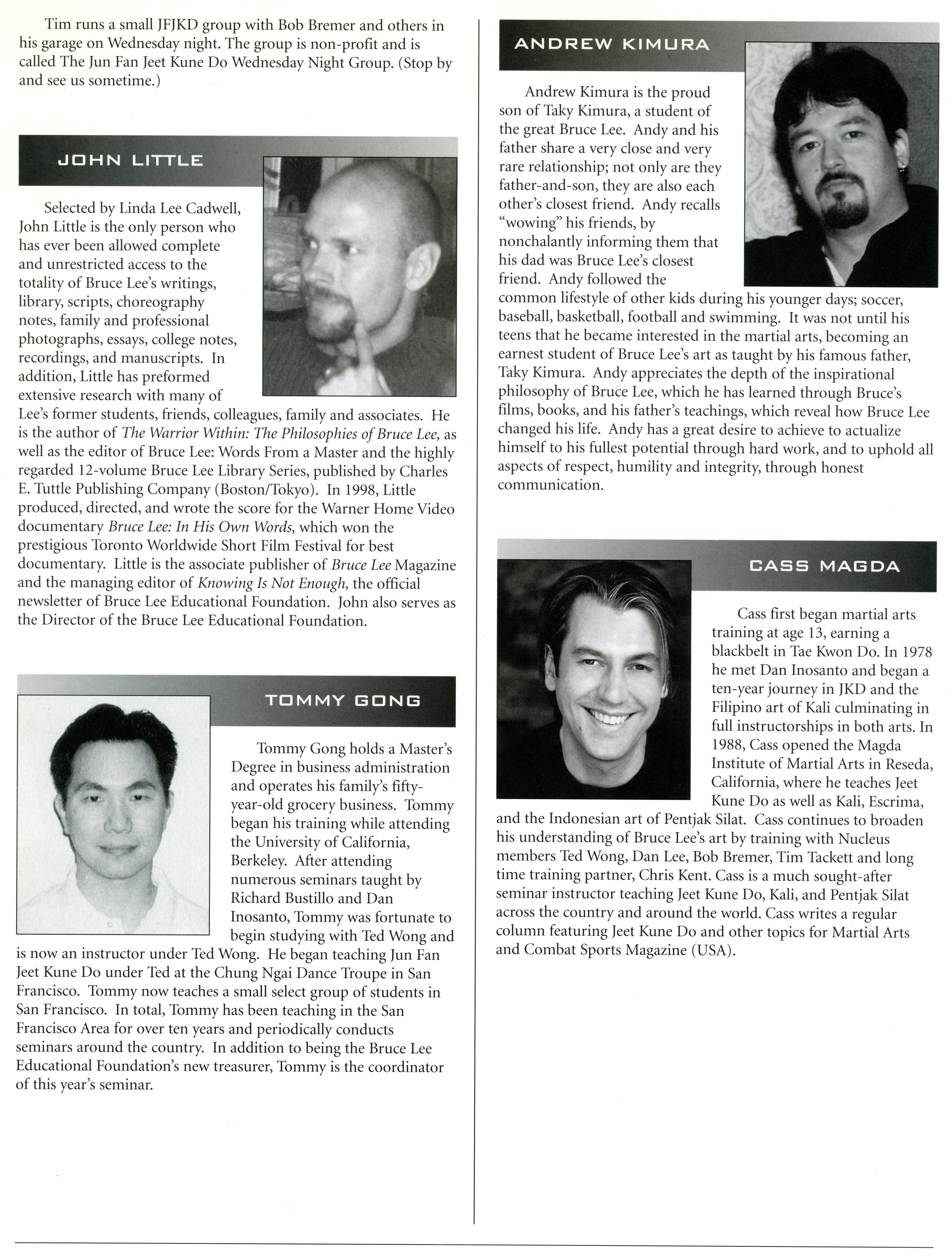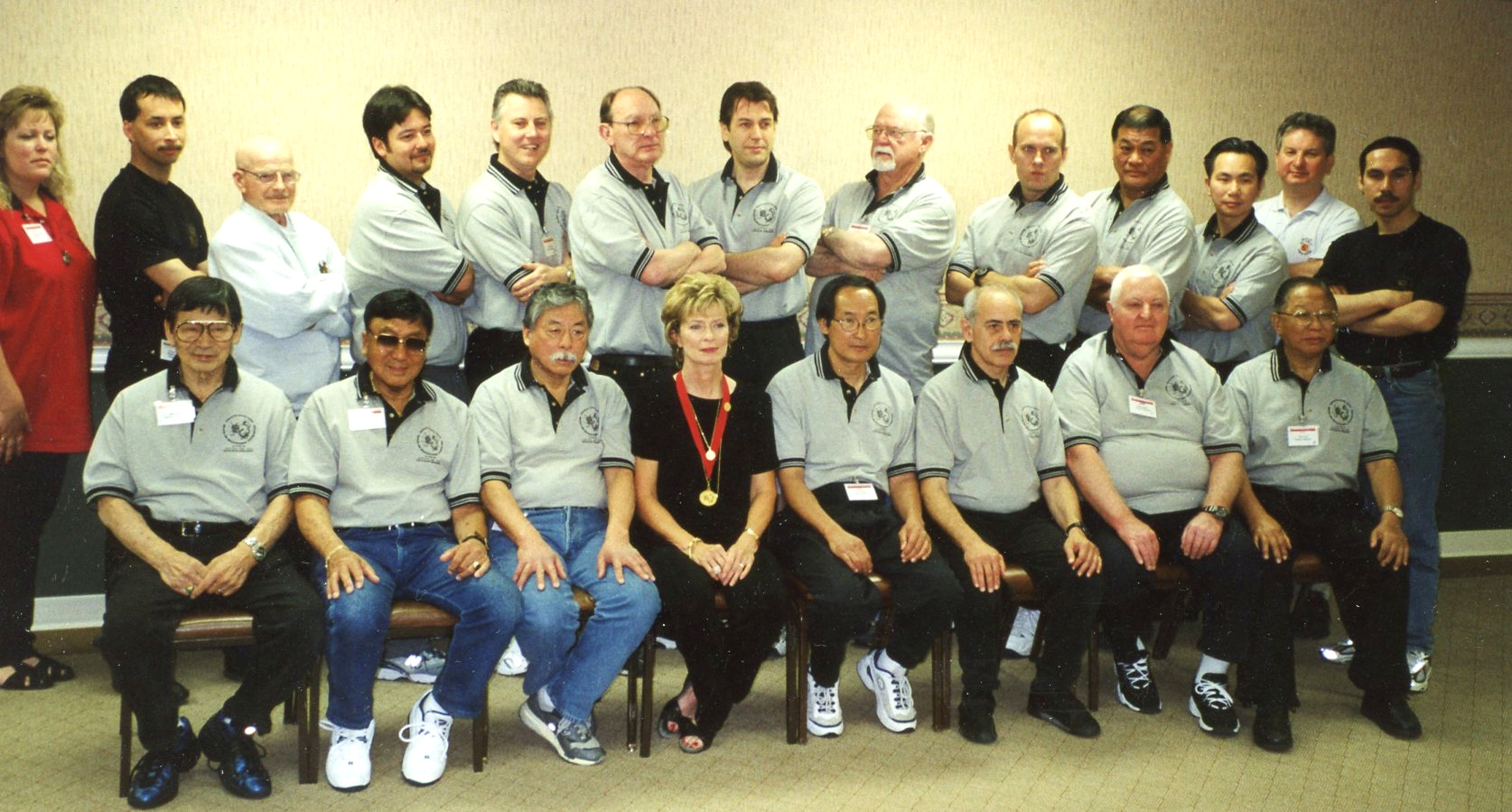 Samen met the Nucleus op de foto in Las Vegas 2000
Aankondiging Bruce Lee Foundation Seminar in Nederland 2001!
Bij The Academy kun je terecht voor
Jun Fan Jeet Kune Do & Ving Tsun Kung Fu
Gratis proefles,
je bent altijd welkom
Trainen in een ontspannen sfeer
Proberen
welke vechtkunst het beste bij jou past
Jezelf in enkele weken effectief verdedigen
Dames en heren, jong en oud welkom
Eén of beide vechtkunsten volgen
Beide vechtkunsten vullen elkaar aan

The Academy Leiden
Jun Fan
Jeet Kune Do & Ving Tsun Kung Fu
James:
+31618798995
George:
+31683082363
Mail voor info:
info@theacademy.center

The Academy Breda
Jun Fan
Jeet Kune Do
Corne:
+31648186028
Mail voor info:
Corne

The Academy Engeland
Jun Fan
Jeet Kune Do
Koos:
+447375782635
Mail voor info:
Koos
The name, likeness, image, domain names, designs, and trademarks of, or associated with, Bruce Lee©
are owned by ©Bruce Lee Enterprises, LLC. All Rights Reserved